What a File Means in the Enterprise
September 20, 2023 | Jim Liddle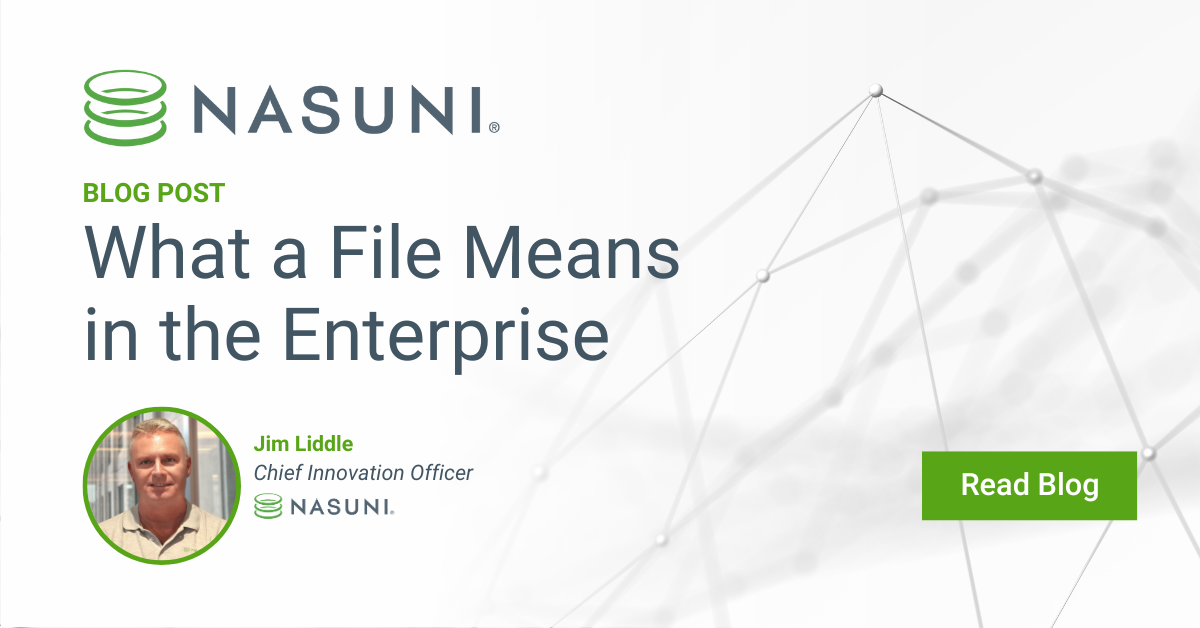 Despite all the recent attention on data, we tend to take the humble file for granted. Files are the largest contributor to enterprise data growth, the primary target of ransomware attacks, and a critical class of assets for many companies. They play a pivotal role in organizing our digital world, heightening the importance of enterprise unstructured data management. Files are manifestations of our digital brains. So why do we take them for granted? I suspect it's because files mean different things to different people within the enterprise. Let's start at the highest level.
1. The File as an Asset
Not everyone will see it this way, but to the larger enterprise a file is an asset. A media agency would be lost without its Adobe Creative work. A venture capital firm couldn't operate without spreadsheets and PowerPoints. A global engineering firm depends heavily on CAD applications — all the work of its expert teams is poured into those files. Engineers at a global AEC enterprise will communicate and collaborate through files, allowing these companies to extend the knowledge and skills of their experts all over the world.
As AI starts to embed itself within the enterprise, the humble file becomes even more of an asset as its files give knowledge and context to Large Language Models. You will often read that people want to interact with their data using natural language. What they are really saying is that they want to ask questions of their files, the knowledge they have accumulated over their working life.
The reason ransomware is so intimidating is that it locks up these critical assets, taking business operations offline. So, today's strategic organizations tend to view files as valued assets that need to be protected, and they initiate the shift to cloud file services in part to strengthen enterprise cybersecurity.
2.The File as a Cost
Unstructured data management can be very expensive when you rely on traditional storage infrastructure, so CFOs may view files as an unpredictable cost. Files outgrow the capacity of expensive storage hardware, forcing unplanned capital investments, and backing them up is expensive, time-consuming, and unreliable.
This view of the file is starting to change as more companies migrate to cloud file services. When we present a cost estimate to prospective customers, they are pleasantly surprised to learn that they can meet their capacity and data protection needs whilst reducing spending. A cloud file services platform can be better, faster, more powerful, and cheaper.
3. The File as a Risk
To a CISO, a file is all about risk. CISOs are focused on compliance, legislation, governance, data leaks, and enterprise cybersecurity, all of which are file-centric issues. They need to make sure no one is stealing the company's crown jewels and they must constantly refresh their policies and strategies as local, regional, national, and global regulations change. When a CISO evaluates a cloud file services platform, they require assurances that it will integrate with their access control policies and maintain compliance with all the relevant global rules and regulations for their data.
A file is a risk to a compliance officer as well. If files are mismanaged, and the enterprise finds itself in violation of certain regulations, the compliance officer bears the blame. So if their organization is going to be relying on a cloud file services platform, they too need assurances it will adhere to their policies. If a file has Personally Identifiable Information (PII), for example, they need to know how to find this data, and how it is protected.
4. The File as a Headache
When files are lost or deleted or directories go missing, everyone blames IT. Users want fast access to their files regardless of where they are in the world, and they demand IT find a way to support that need or they'll engage in Shadow IT operations that impact enterprise cybersecurity. Executives may question why storing and protecting files is so expensive, then question why the organization wasn't spending more in the aftermath of a ransomware attack. As a result, files are often a headache for IT, and they want solutions that alleviate the pain.
Unstructured data management has traditionally been a high-maintenance, low-reward job, so IT leaders are naturally attracted to solutions that make their working life a little easier. This is one of the core appeals of the Nasuni File Data Platform. You never run out of space, and with Continuous File Versioning, you never lose data or have to worry about maintaining backups. You're protected when the unthinkable happens, whether that's a ransomware attack or a natural disaster. And your users can securely access and share files from the office or on the move.
5. The File as Productivity Killer
A file is a challenge for project managers, especially when they have people working on the same dataset in multiple geographies at the same time. The engineering, architecture, and consultancy firm Ramboll has 16,500 employees in 35 countries, with 300 remote offices. Previously file data was siloed at each site, so collaboration between employees at different locations was a massive challenge. Latency plagued CAD applications, slowing productivity.
Now Ramboll relies on a single enterprise cloud storage platform that extends to all sites. Latency and collaboration aren't a concern for project managers. They know they have a cloud file services platform that allows their best people to work together, regardless of location.
6. The File as Oxygen
Finally, we have the engineers, designers, architects, lawyers, and other end users who see the file as a digital variation of oxygen. Their professional life depends on it and they expect it to be everywhere they go, whether they are working at headquarters, in a remote office, or at a coffee shop on the other side of the world. A standard cloud storage for business solution is not capable of delivering this level of anywhere access, and doing so through a traditional storage infrastructure would require multiple additional solutions that would drive up costs and complexity whilst compromising enterprise cybersecurity.
The only way to address every view of the file within the enterprise — to treat it as a core asset, reduce costs, mitigate risk, simplify management, enhance productivity, and deliver secure access, anywhere — is through the Nasuni File Data Platform. Don't just take my word for it, listen to what our customers have said.