Blog
Is Nasuni's Unstructured Data Management Platform on Your Radar?
July 12, 2023 | Anne Blanchard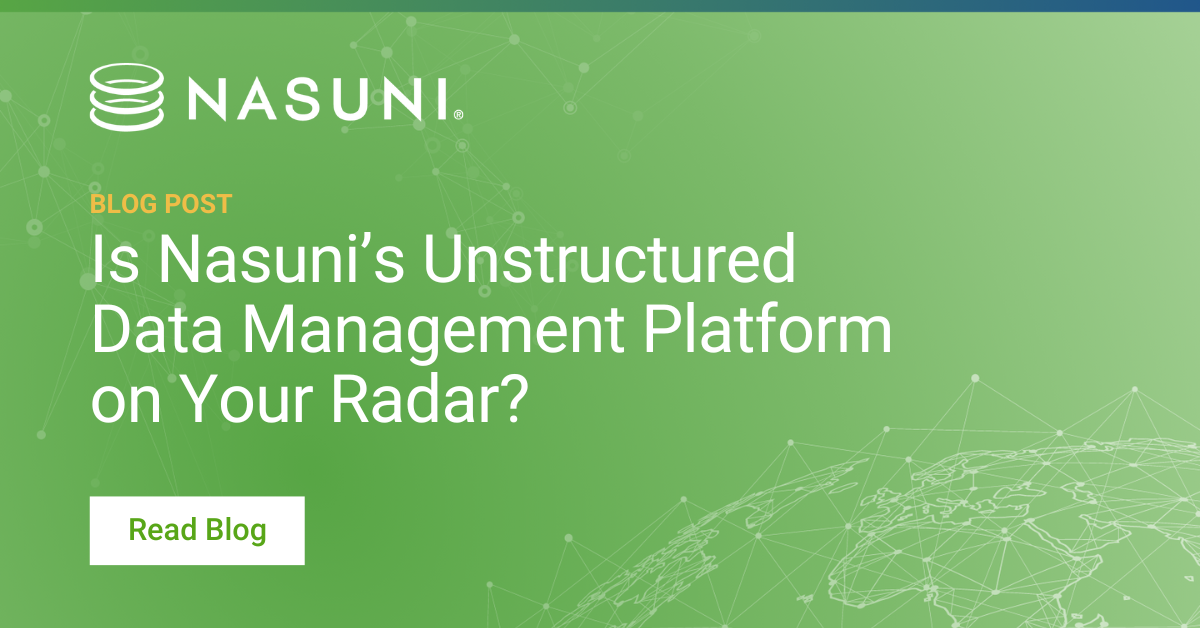 Unstructured data is growing at an incredible rate. We regularly work with customers experiencing 20% data growth per quarter. For anyone who manages storage infrastructure for a large organization, this serves up more than a capacity problem. It serves up unstructured data management and business alignment challenges.
To meet this challenge, a growing number of organizations are embracing full modernization of their file infrastructure. Because data growth rates are so high, modernization and meeting business needs can't be separated.
A capable modern data management solution satisfies both.
Industry experts and organizations assessing their data management solutions in these extreme growth conditions should evaluate the unstructured data management solutions available in the market closely. With this in mind, consider the following points:
1. Leaders are emerging and Nasuni is one of them
There is some confusion in the marketplace about how to categorize different unstructured data management solutions, so I will note that Gartner listed Nasuni as a top vendor in its Hybrid Cloud File Platform category, along with Azure and AWS. Analyst firms aside, our track record as a company — including passing $100M in ARR — and our extensive customer roster of top global organizations such as Western Digital and American Standard supports our standing as an industry leader.
2. You Can't Manage Unstructured Data Without Cloud
The cloud used to be an interesting infrastructure add on. Now it is a risk not to move data to the cloud. This is a dramatic change and a necessary one. The cloud allows organizations to reduce costs, protect their business against ransomware, and keep pace with innovative competitors.
Even if we leave aside ransomware recovery, analytics, global synchronization and other advanced capabilities, and focus solely on management, Nasuni stands out. The platform's innovative cloud-centric architecture allows for simpler management of unstructured data across multiple locations. Our customers repeatedly cite the ease, simplicity, and cycle-saving benefits. The cloud not only enables growth – it enables re-allocation and continuous optimization of resource deployment – at a speed that on-premises resources cannot keep up with.
3. The future means less hardware everywhere
Traditional infrastructure is changing as physical hardware is replaced by services. Our customers are asking us to make their traditional infrastructure go away. They want offices without file and backup servers. They want their remote or hybrid workers to be able to access files with as little hardware as possible, as securely as possible, sometimes without VPN. They want to downsize their data center footprint and shift to a more energy-efficient cloud resource.
4. There will be fewer and fewer resources allocated to managing just storage
Gartner estimates that storage-related hardware management and support IT skills will drop from 85% of a company's storage infrastructure budget to less than 30% in the next four years. What we are seeing in our customers' staffing matches up with Gartner's projections. While IT budgets may be growing, so are the demands for investment in security, ransomware protection, and hybrid work support.
The Gartner report, Modernize Your File Storage and Data Services for the Hybrid Cloud Future, is a great resource to help you see what's over the horizon in unstructured data management.
The Nasuni solution aligns with these trends. What we provide is a new kind of infrastructure – a cloud-centric approach that opens up all kinds of possibilities around analytics and synchronization while reducing costs. Our Chief Product Officer Russ Kennedy wrote about this trend recently for Forbes, noting how this cloud approach frees you from managing infrastructure and allows you to focus on managing and extracting value from your unstructured data.
In short, if we're not on your radar, just ping us directly at Nasuni.com to learn more.