Nasuni File Data Platform
Innovative Architecture Delivers Unmatched Value
Nasuni provides organizations of all sizes with a cloud-native solution for file storage that goes far beyond what traditional infrastructure or other cloud providers can do. No limits on volume, directory, or file size. Dramatic risk reduction with near-immediate recovery. Ransomware protection at the edge. Effortless file restores. Secure remote access. Fast global file sync. Local performance. Cloud choice. The list goes on and on with Nasuni's File Data Platform!
Got Files?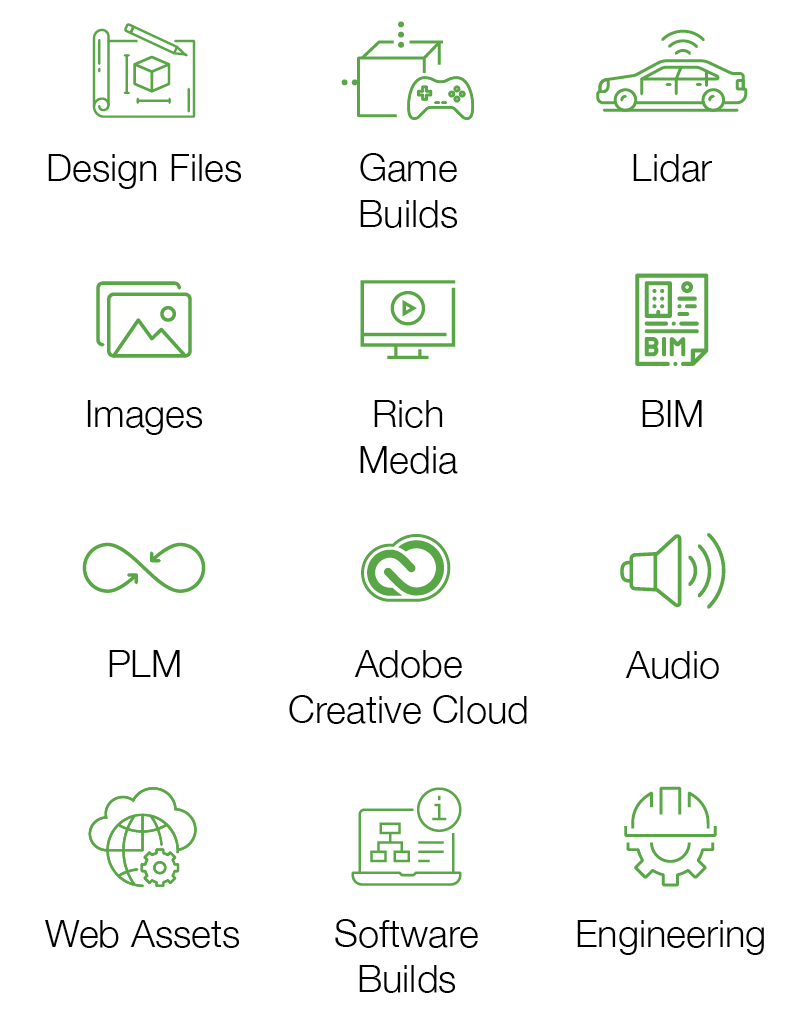 Nasuni File Data Platform can handle virtually any file data workload.
Services Delivered at Cloud Scale
Built-in Services
A modern platform that includes all the core file data services you need.
File Storage
Nasuni uses the native scalability of cloud object storage to provide durable, protected capacity to any number of manufacturing locations and users.
Data Protection
Nasuni Continuous File Versioning™ makes file backups frequent and automatic with predictable RPOs and RTOs. Millions of files can be restored in minutes to every location.
Security
Nasuni data encryption, role-based access, and independent control path helps secure file data from being hacked, encrypted, or compromised.
File Synchronization
File synchronization provides automated, no-maintenance synchronization of millions of file changes per hour. The result is increased productivity for the whole organization without expensive infrastructure investment.
Edge Performance
Nasuni Edges are extremely efficient virtual appliances that provide up to a 98 percent cache hit rate, giving users and applications LAN-speed access to files. Nasuni Edges reduce the file storage footprint by up to 90 percent, lowering costs and eliminating time spent managing local file servers.

Multi-Cloud
Nasuni supports Amazon S3, Google Cloud Storage, and Microsoft Azure Blob Storage, as well as leading private cloud object storage solutions in proximity to the users and applications that need them. Nasuni's easy cloud-to-cloud migration capabilities mean no lock-in with a single cloud provider.
App and AI Integration
Nasuni supports popular applications for engineering, design, workflow, reporting, and auditing for fast, multi-site file synchronization and sharing as well as powerful AI services by Cloud Providers.
Extensive Protocol Support
Nasuni supports access to files through standard SMB (CIFS), NFS, FTP/SFTP, and HTTPS file-sharing protocols for Microsoft Windows, Linux, and macOS with advanced support for extended macOS file attributes and metadata allows for easy file sharing across all environments.
Award Winning Data Security and Protection
The Nasuni File Data Platform is comprised of five, elegantly architected components powered by more than 30 patents.
UniFS® Global File System scales without limits in AWS, MS Azure, or Google Cloud, eliminating the capacity, volume, snapshot, and file size constraints of hardware-based file systems.
Nasuni Edges are on-premises virtual machines, and cloud-based compute instances that cache copies of frequently accessed files wherever high-speed file data access is needed.

Nasuni Management Console is a web-based interface for managing, provisioning, and reporting on Nasuni Edges, volumes, snapshots, recoveries, protocols, and file shares through a single, centralized pane of glass.
Nasuni Orchestration Center is a zero-maintenance control path built on elastic, multi-region cloud services that enables file data to be shared across locations at any scale and without version conflict.

Nasuni APIs are industry standard interfaces that enable Nasuni to be programmatically controlled by scripts or third-party workflow solutions to automate provisioning, reporting, chargeback, and other file data management functions.
Need Even More?
Nasuni Add-on Products at your Service.