Blog
Welcoming Pete Agresta: The first Nasuni Chief Revenue Officer
January 18, 2023 | David Grant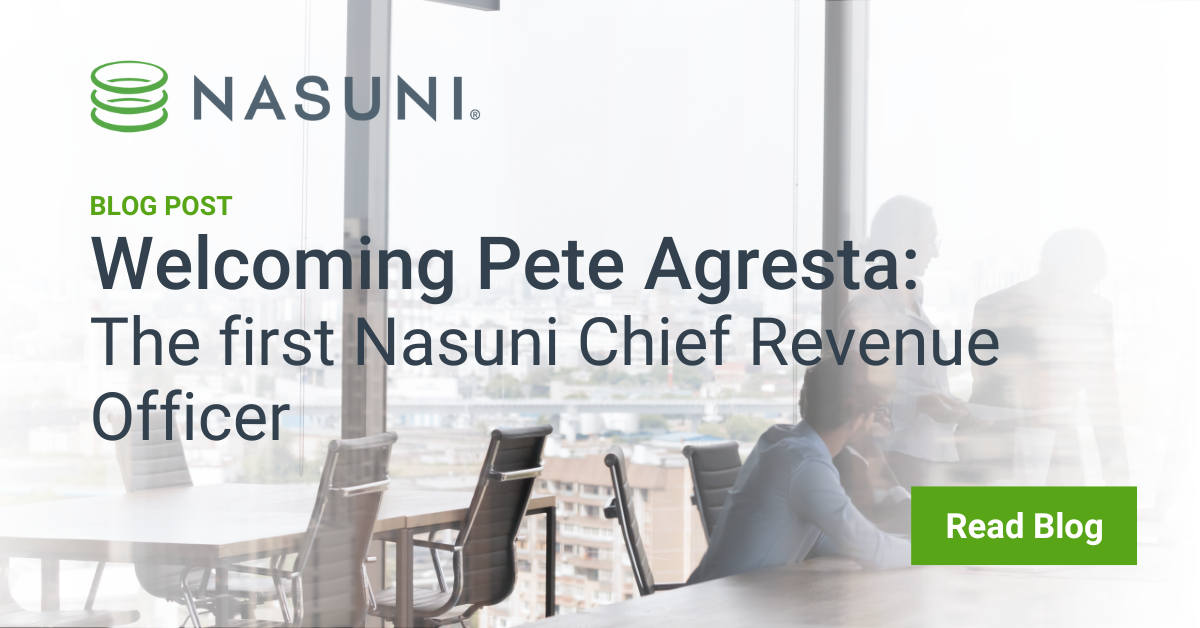 I'm excited to announce that Pete Agresta has joined Nasuni as our first ever Chief Revenue Officer (CRO) joining an already incredible management team.
As we kick off 2023, I'm humbled to lead a go-to-market team that continues to achieve extraordinary business milestones — recently passing the $100m ARR financial milestone – to the highest customer satisfaction ratings in the market – to amazing internal employee satisfaction survey results. By far and away the best part of being in a high growth disruptive company is building a cohesive, collaborative team that embody Nasuni's core values day in and day out and has a ton of fun along the way.
We have all been through a lot over the past 2 years. A global pandemic, inflation, now a recession. Many technology companies got caught up in the hype and took unreasonable valuations & investments, spending their way to revenue growth and many have since had to cut back and significantly downsize. We are very proud that during this challenging period of time, Nasuni has continued its rapid growth in the market, while maintaining a focus on our two most important assets, the success and happiness of both our customers and our employees – and the numbers prove it.   Since the pandemic began, we have increased the annual recuring revenues from our Cloud File Platform by over 140%, we have increased our customer retention rates to over 97.5% while experiencing a fourth year in a row of increasing Net Promotor Scores, and increased the number of employees at Nasuni by over 70% without having any employee cut backs during this time period.
Why a CRO now? Our incredible go-to-market team has grown our business significantly while being manically focused on customer satisfaction getting us to this significant milestone. We are taking advantage of this momentum and our industry leading product to build a team that can take us to the next major milestone.   We all agreed that now was the right time to bring in a sales leader that could take us on our next growth journey.  With Pete's experience at an innovative, disruptive storage company like Pure Storage, combined with his years of experience selling into the enterprise, and his "team first" mentality, Pete is the perfect candidate to help us take Nasuni deeper into the enterprise and continue to build the market leading cloud services company.
From our first meeting, I've been confident that Pete and I are fully aligned in our vision for this new role and most importantly the team focus. We're fortunate to have Pete, and his significant domain expertise, now on board, and I can't wait to see what his team is able to achieve in 2023 and beyond.
Join me in giving Pete a warm welcome to the Nasuni family!