Blog
Welcoming Thomas Stanley to the Nasuni Board of Directors
November 10, 2021 | Paul Flanagan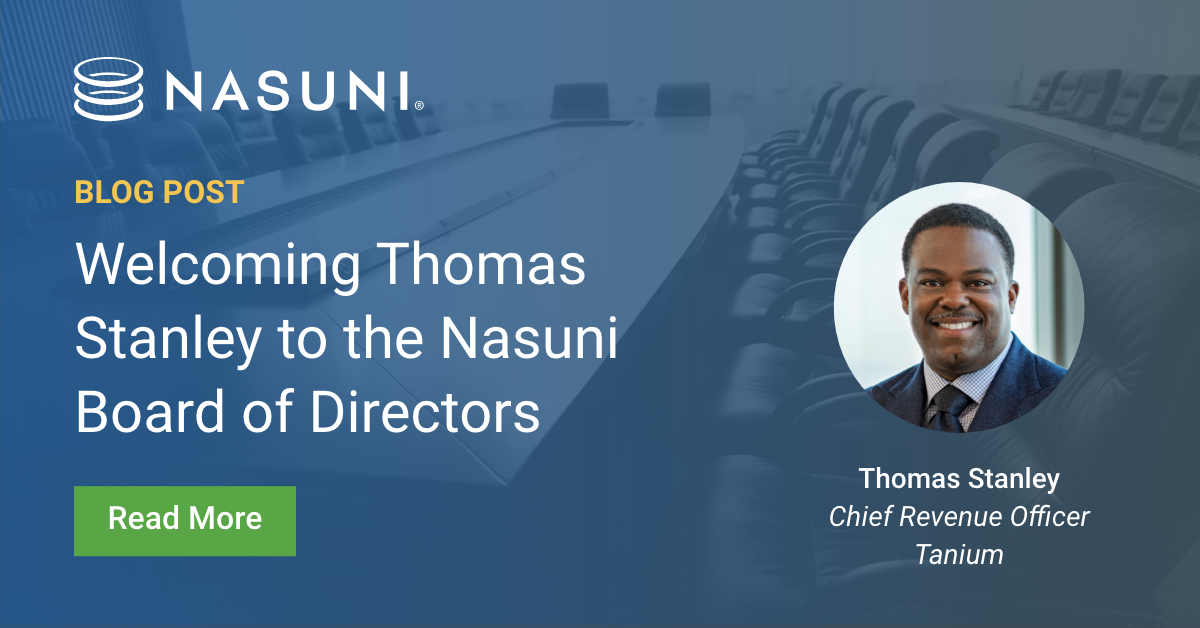 It's been a very exciting year for Nasuni and today we announce another significant milestone with the appointment of Thomas Stanley to our board.
Nasuni has grown rapidly over the past 4 years and as we come up on a significant revenue milestone for our Company (more on that at another time), we have realized that adding leadership to our team that has experience growing technology companies from $100M to $1B ARR will be important to our success. Having Thomas join our Board helps accomplish this. Let's take a look at his background…
A proven executive and sought-after speaker on technology and philanthropy, Thomas is currently the Chief Revenue Officer for Tanium, a rapidly growing global security startup backed by Andreesen Horowitz. At Tanium, he was recently recognized as a 2021 Top 100 Global Sales leader. Prior to Tanium, Thomas spent 13 years at NetApp, rising to the position of SVP and general manager, handling direct and indirect sales, engineering, professional services, business development, finance, operations and marketing across North America, South America and the U.S. public sector. CRN recognized him as one of the most influential channel chiefs during his tenure at NetApp. During his time with NetApp, he helped the company scale from $2B to $6B in sales. Thomas has a stellar record of global sales leadership, and his experience and a perspective that will help Nasuni immensely.
In addition to his leadership roles in sales, at an innovative security company and at one of the great legacy storage technology companies, Thomas started his career as a coder at IBM – a fact that will endear him to our engineering team! When I first met with Thomas, this diverse experience allowed him to immediately grasp the power of our technology and understand the value we are delivering to our customers in driving the shift from storage infrastructure and data management to the cloud. Our platform's ability to store, secure, and scale file data in the cloud is convincing more and more larger enterprises to move away from NetApp, Dell and other traditional storage vendors and modernize with Nasuni.
Thomas is also the second former NetApp executive to join our Board – along with current member Joel Reich. Joel, who had spent 17 years at NetApp, and most recently served as Executive Vice President of Product, fills a significant innovation role on our Board with his background in product and engineering. Thomas will compliment that with his "go to market" experience. We're looking forward to the insights he will bring to the table.
So, why is Thomas such an important addition now? Demand for cloud file services is at an all-time high. Our existing customers are renewing and expanding their Nasuni deployments. We're adding new customers at an incredible rate.
But we can always be better. Thomas has deep experience managing and growing global revenue, and he's sure to help us find ways to fuel our business success, while continuing to help our customers enable greater cost efficiency.
This has been a banner year for Nasuni, but we're not satisfied. We're looking to drive exponential growth and Thomas' insight into cultivating and building relationships with integrators and channel partners is going to be tremendously valuable. In fact, over at CRN, one insider described him as "an outstanding executive" and "one of the best out there."  The rest of the leadership team and I look forward to working with him to usher Nasuni into our next phase of growth.
It is clear that Thomas has great experience to help Nasuni continue to grow. But what impressed me about him just as much as what he brings to Nasuni, is what he brings to the community. One thing I noticed right away was that Thomas has a lot of integrity and compassion. He's a vocal and active advocate for numerous causes and organizations relating to education, youth advancement, and diversity and inclusion.
Currently, he serves on the boards of Sprout Social, the Industry Advisory Board at North Carolina A&T State University, and Boys Hope Girls Hope International, which nurtures and guides motivated young people in need from adolescence through the launch of their careers. I am proud to have the opportunity to work with him and look forward to what we can build together with him as a team.
I hope you'll join me in welcoming Thomas to the growing Nasuni family! We're thrilled to add his insights, voice, expertise, and perspective to the Nasuni leadership team.