NAS & File Server Silo Consolidation
No More File Storage Silos
Instead of pockets of files located in various storage systems across multiple locations, Nasuni's Global namespace gives your organization a single view of every file, regardless of who created it or where. Individual NAS and file servers across every location are completely replaced with Nasuni virtual cloud file storage. Once files are consolidated, they can now be globally protected and governed. Cloud services like AI and ML are now available to use with your files delivering even larger business value.
Go from Many Admin Consoles to ONE
No more logging into every NAS device and file server to configure storage over and over across multiple locations. No more going to the office to manage the backup software and tape rotation. No more dedicated WANs. Nasuni's "set it and forget it" operations make managing your global file infrastructure easy – just one console provides a single pane of glass to oversee and control your cloud file storage from anywhere, any time. Use APIs to automate configuration and policies to schedule events. Reporting and alerts let you keeps a pulse on everything that's going on.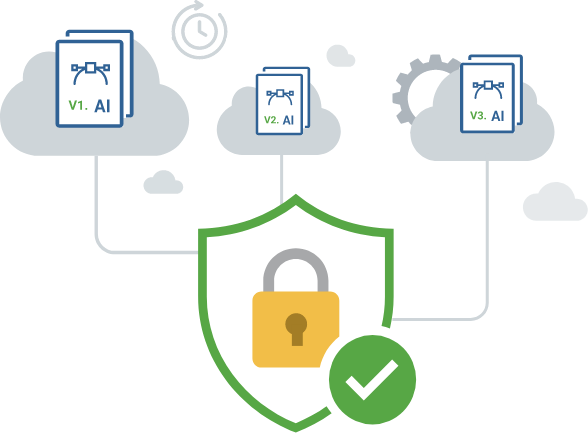 Built-in Backup, DR & Ransomware Mitigation
With a cloud-based approach backup and data protection is built-in. No more buying and managing separate backup systems. Nasuni's Continuous File Versioning with infinite snapshot technology takes data protection to the next level that continuously store only the bits of files that change in immutable, read-only objects in the cloud. The need for traditional file backup and all that goes with it are eliminated. RPOs and RTOs are reduced to minutes. File restore from any point in time is performed from a simple menu dropdown in minutes. The same is true for disaster recovery (DR). In less than 15 minutes, entire effected locations can be ready for access, eliminating the cost of dedicated DR sites needed to ensure business continuity. Malware is no longer a threat as files can be quickly restored to the point just before infection, so you don't pay the bad guys.
Learn more about our Professional Services
Designed to ensure a successful lifetime experience with your cloud file services subscription, see how everything we do is focused on ensuring you get the value you deserve.
Learn More
End Users Can't Tell the Difference
Nasuni includes virtual Edge Appliances that can be deployed in regional cloud regions or on virtual machines on premises at remote locations. These appliances cache copies of actives files from the cloud for end users to access through standard SMB/CIFS drive mapping and optimized for speed with fast performance or faster than traditional network attached storage.
When We Say 'No Limits', We Mean It
Unlike other 'cloud' file storage solutions, Nasuni was born in the cloud and uniquely leverages cloud-native architecture including object storage. By leveraging object storage, we can deliver on-demand file capacity and scalability with no limits. No volume limits. No file size limits. No directory limits. No snapshot limits. No limits to the number of locations or users. We're serious.

Who Would Pass Up a 50% Hard Cost Savings?
Your organization is likely to save at least 50% or more on file storage when it moves to the cloud with Nasuni. How? By eliminating CapEx hard costs including NAS arrays, file servers, backup equipment, redundant hardware for disaster recovery, and expensive WAN resources. Instead, your CFO will enjoy a cost-optimized OpEx model that ensures no overbuying – you pay for only what you need when you need it. Don't just take our word for it, ask us to conduct our proven TCO analysis!
Learn More