The New Era of Hybrid Cloud Storage Platforms: Gartner's Top Trends in Enterprise Storage 2023
September 25, 2023 | Anne Blanchard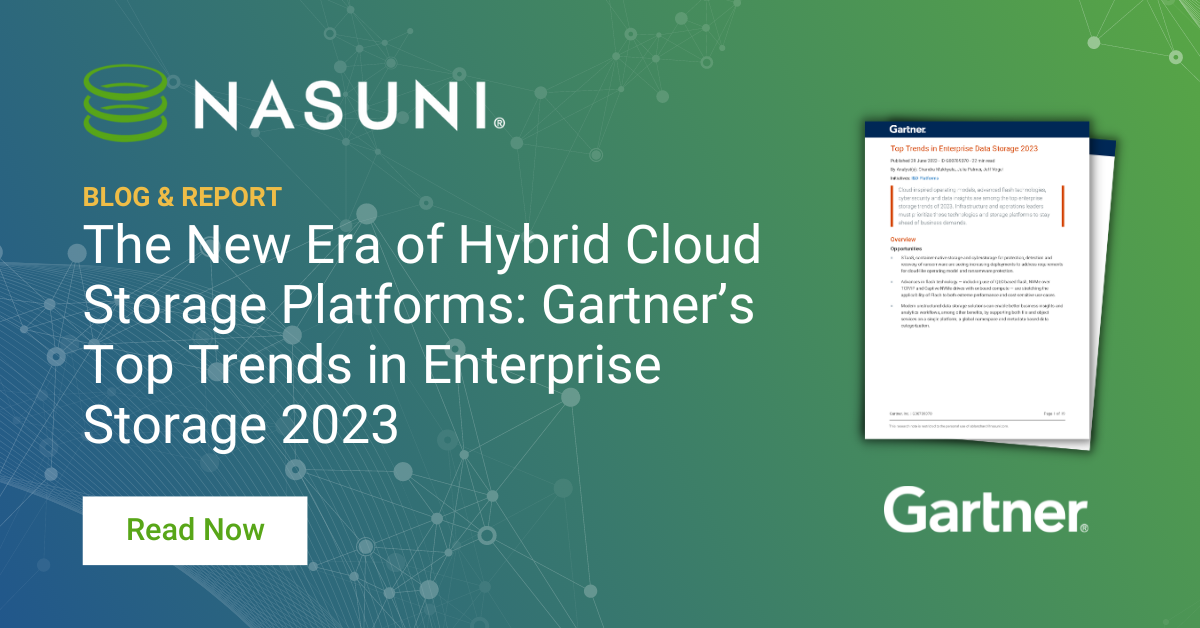 When Gartner® published its Top Trends in Enterprise Data Storage 2023, we were not surprised to see that their findings line up with our view of the market and the needs of modern organizations. All the evidence suggests that hybrid cloud storage platforms will be the dominant model for storing, protecting, and sharing file data in less than five years.
Unlike the solutions from legacy storage vendors and niche cloud startups, Nasuni technology is perfectly situated for the massive change underway in the enterprise storage market. A baseball catcher doesn't try to snatch a 100 MPH pitch with a regular mitt, and you can't address the needs of today's large organizations with legacy storage and backup or a hybrid cloud storage platform that doesn't scale. Enterprises need to make their unstructured data safe against ransomware, available anywhere, easy to manage, AI-ready — and they need to do so at a lower price point.
Top Trends in Enterprise Data Storage 2023 does not mention Nasuni or any other vendors. It's a report on the market that reflects Gartner's deep understanding of the needs of the modern enterprise. I encourage you to consult the full report, which is available to our readers, but I'd like to share a few key takeaways, too.
Storage as a service is on the rise
The firm projects that consumption-based storage models will triple their stake in total enterprise storage capacity in the next five years. The appeal of storage as a service is obvious to anyone who has ever been forced to unexpectedly buy more iron to keep pace with capacity growth. Switching to storage as a service allows companies to reduce costs, expand capacity as needed, and simplify management without compromising enterprise performance.
Storage can't just offer capacity anymore
Gartner expects that all storage solutions will include active cyberdefense and recovery capabilities by 2028. One of the original design breakthroughs at Nasuni was the realization that we could leverage the cloud to create a continuously versioning file system — a storage platform that doesn't need to be backed up. This combination of storage and data protection has been part of Nasuni since our inception. Since then, we have added various file data services, including advanced ransomware tools that enhance protection, detection, response, and recovery. Backup simply isn't good enough anymore. Your defense against ransomware needs to be active, smarter, and faster. In general, your hybrid cloud storage solution needs to do more.
The single global platform will dominate
Within five years, Gartner expects that consolidated unstructured data platforms will double their share of enterprise data to 70%. End users and IT don't want their file workloads in different silos. They want all their unstructured data in the same, easy-to-find drives, with the same access control policies, and they want those files and folders to be available everywhere. The architecture of the Nasuni File Data Platform is designed to provide a consolidated global namespace, and we improve on that with our Access Anywhere add-on service. Extending these kinds of capabilities to your end users in a seamless, manageable way is only going to be possible with a modern hybrid cloud storage platform like Nasuni.
Files will need to be available everywhere
Gartner expects that hybrid cloud file data services will make it easier for users to access, share, and collaborate on file data by eliminating copies and distilling down to a single, universally available file. Again, this is how the Nasuni File Data Platform has operated from the beginning. Our file system, UniFS, maintains what we call a gold copy in the cloud, then caches local copies for fast access and rapidly synchronizes changes back to that gold copy. This enables global collaboration with a unique combination of speed, scale, and simplicity.
A year of accelerated change
Last year at this time, I wrote about a previous Gartner report that aligned with the shifts we were seeing in the market, but 2023 has been a year of accelerated change. More large organizations are moving more file data off legacy hardware and underperforming cloud alternatives onto our hybrid cloud storage platform.
Nasuni is perfectly situated to be a leader in this space. Our core technology has been proven at scale. Some of the largest and most demanding companies in the world depend on our technology, and we have built a dedicated, professional, responsive team to help customers maximize their Nasuni investment.
If your unstructured data is still anchored to legacy hardware, read Top Trends in Enterprise Storage 2023, then reach out to Nasuni for more information.
Attending Gartner IOCS in Vegas from December 5th – 7th? We'll be there too! Visit Nasuni at Booth #115 to discover top industry trends, find objective answers, and explore topic coverage in addition to best practices.
Get the inside scoop on the new era of hybrid cloud storage platforms. Save your spot for Gartner IOCS and meet us in Vegas!