Blog
100 PB & Climbing: Nasuni & Microsoft Azure Surpass Major Milestone
March 14, 2023 | Paul Horn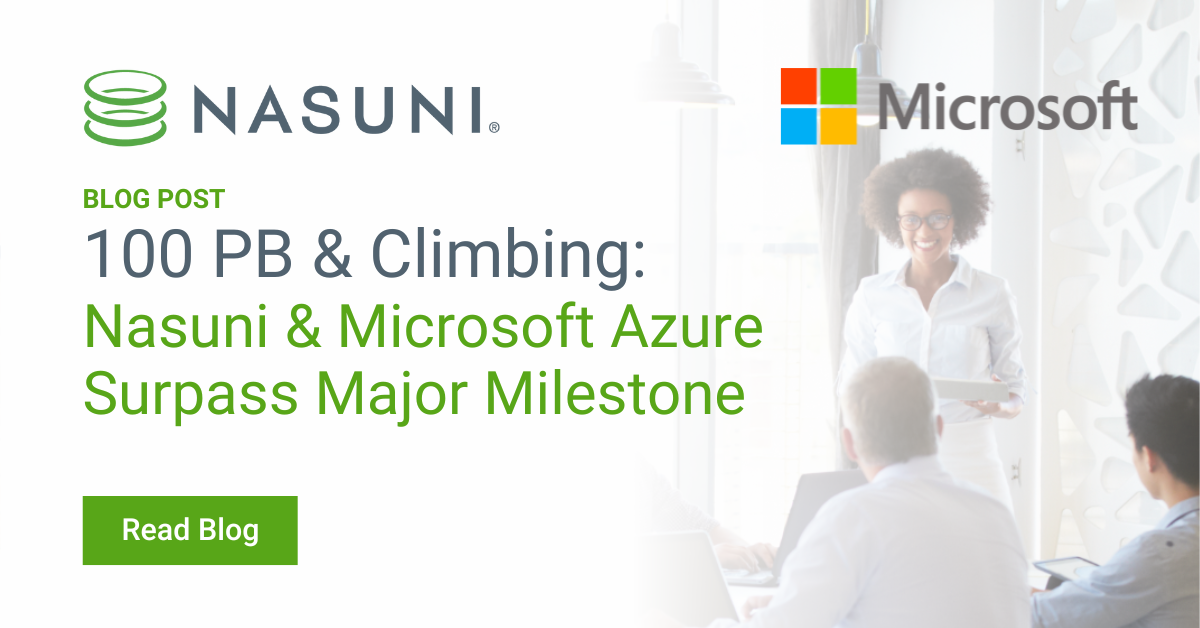 Today we announced that Nasuni has surpassed managing and protecting over 100 petabytes (PB) of primary file data workloads residing in Microsoft Azure. This news will probably be overshadowed by another recent benchmark for the company, but it's a major milestone, and one that reflects our focus and commitment as an organization as more enterprises migrate to the cloud. When I joined Nasuni to manage our Microsoft alliance three years ago, we were at roughly 19 PB in Azure. Today we have more than 500 joint customers with Microsoft. Thanks to a compound annual growth rate of 74% in these past three years, we've blown past the 100 PB mark.
There are a few reasons for this momentum. The first is technology. Combined with the performance, scale, and cost efficiencies of Azure Blob Storage, the Nasuni File Data Platform has proven to be increasingly attractive as companies advance their digital and cloud modernization initiatives, support remote and hybrid workers, and look for ways to defend their business against ransomware. We've also doubled down on our Microsoft partnership by building out our Microsoft 365 and Microsoft Teams integration, which allows Nasuni users to store, search, browse, and edit Nasuni-managed files within these apps.
Yet technology advances and market trends only tell part of the story. As our CEO wrote recently, Nasuni's success is very much about its people, and the same holds true here. Our partner team at Microsoft has been instrumental. Long before I arrived, Nasuni had a strong co-sell partnership with Microsoft that fine-tuned our positioning in the market. But in the last three years we've built on that foundation and taken things to the next level. The Azure team is dedicating more and more resources to help drive our success and our internal Microsoft alliance team is growing as well. We're working regularly with our smart, focused, driven colleagues at Microsoft in the U.S., EMEA, and elsewhere to help more customers leverage the cloud for their file data workloads. I'm also excited about the release of our new guide to storing files in Azure, which gives enterprises more information on how to lower costs, increase resilience, and more with Nasuni and Azure.
The 100-PB marker reflects the strength of this relationship with our Microsoft partners, but we're far from satisfied. Not long after we surpassed that milestone, we met with Microsoft to start laying the strategic groundwork for the next phase of our expansion. What I find truly exciting is that there is no technical limit to this partnership. Azure has no limits. Neither does Nasuni. Our technology, and our business with Microsoft, is poised to scale as far as we can take it together. So, here we go!