Blog
Why Nasuni Acquired Storage Made Easy
June 28, 2022 | David Grant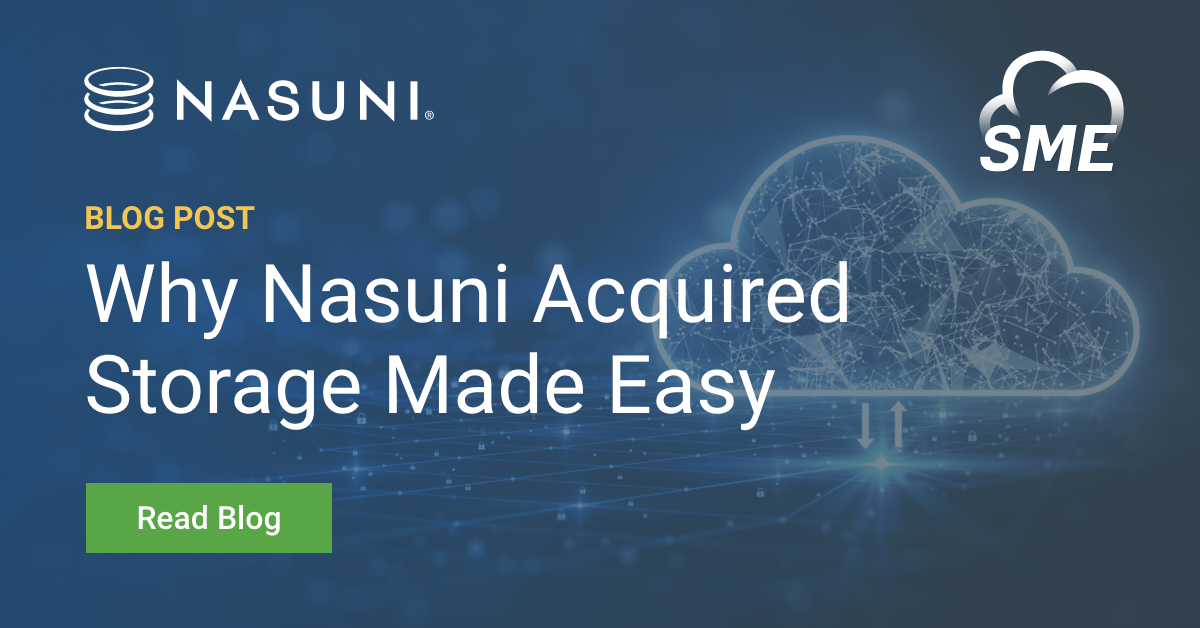 As you may have read in the news, today Nasuni announced an agreement to acquire Storage Made Easy (SME)! It's an exciting time here at Nasuni, as this is our second acquisition in 60 days. On behalf of the Nasuni team, I wanted to share with you why we are excited to integrate SME technology with the Nasuni File Data Platform, and what it will mean for our customers and partners.
Who is Storage Made Easy?
First, let me tell you a little about Storage Made Easy and their amazing technology. SME is a UK based company that provides a multi-cloud data management and data protection product called the Enterprise FileFabric™. They tackle two very difficult challenges for traditional Network Attached Storage (NAS): remote worker demands for VPN-less access to file data and search/compliance of file data. Nasuni and SME started partnering about two years ago and have many joint customers today.
How will this accelerate our vision for reimagining file storage and backup infrastructure?
Nasuni and SME were both founded to reimagine file storage and backup infrastructure for the cloud world. A wave of change is hitting IT today. Companies are searching for solutions to help them efficiently manage file data growth, protect against ransomware attacks, support work-from-anywhere initiatives, and extract more value from their distributed data. The traditional Network Attached Storage (NAS) and backup approach to managing files, which stores ad backups data in silos, is not fit to meet one of those needs, let alone all four. The Nasuni File Data Platform, on the other hand, is designed to adapt and meet the changing needs of the modern enterprise.
Today, I am happy to announce that the platform just became even stronger. This unique acquisition firmly puts us in a position to address all four of those major IT priorities with a single unified platform. I call this a "unique" acquisition because a joint Nasuni-SME solution has already been deployed in the field. We have already been enhancing their remote access and compliance capabilities with the help of SME's technology.
We acquired SME and its core technology in part because we know that it works. We have seen the impact our joint solution has had on enterprise organizations and we're excited to continue to augment Nasuni's remote work and compliance capabilities.
We listen closely to our customers to understand what they need, and for several years now, four roadmap items keep popping up. Customers have been saying they'd like their end users to be able to connect to an edge appliance without having to work through the corporate network or VPN. Most of us in the post-pandemic world can identify. When you're working from home, you don't always want to log into an office just to access, share or synchronize your files. Another request was tighter integration with Microsoft Teams and Office 365. We have an amazing partnership with MS leveraging their object storage for our solution and customers wanted to be able to leverage Teams and Office 365 with data stored with Nasuni. Also, with work from anywhere initiatives offline access became crucial. The last request was enhanced search capabilities for regulatory compliance. Customers want to be able to easily search for personally identifiable information, metadata, and more across all their Nasuni file data.
The SME technology allows us to deliver on both requests, offering:
VPN-less web access
Microsoft Teams and Office 365 integration
Desktop synchronization for offline access
Enhanced enterprise search capabilities for regulatory compliance
Our Product and Engineering teams are always brainstorming and developing new ways to advance our industry-leading Nasuni File Data Platform. Typically, these innovations are developed internally. Global File Acceleration and our recent Ransomware Protection add-on service are two great examples. But in this case, a strategic acquisition made so much more sense. We have already been working closely with the SME team for a while now to deliver an integrated solution to our joint customers. We're confident that the technology matches the needs of our customers. And we know the team at SME was a passionate, hardworking group of individuals who would fit right into our Nasuni culture.
As President, I'm excited about this technology and the people behind it becoming an official part of Nasuni, but I'm also excited about the larger story here. Our platform is evolving. With anywhere access and add-on ransomware services, we are adapting to meet the needs of global enterprises in the post-pandemic era. We are not finished yet, either. The acquisition of SME, our previous acquisition of DBM Cloud Systems' data mobility technology, the launch of the Nasuni Ireland Innovation Centre, our recent $60 million investment from earlier this year, and other developments are all part of our larger plan to be the file data services platform of choice for years to come.