Blog
Record-Breaking Quarter for Nasuni Cloud File Storage
October 13, 2021 | David Grant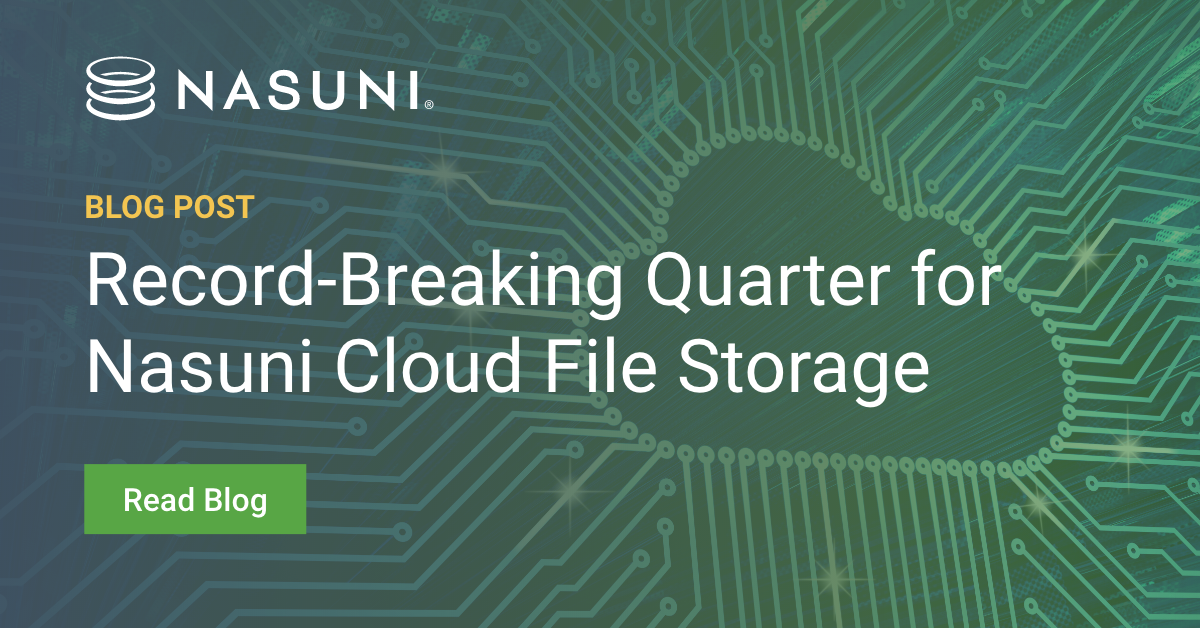 Back in February I wrote a year-in-review post about our 2020 results and ended with an optimistic claim that we were looking forward to setting even more company records in 2021. The year isn't finished yet and we still have plenty of work to do but I'm proud to report that after a fantastic Q2, we upped our game in Q3, driving both bookings and revenue to all-time highs — and meeting our always aggressive goals. That includes 139% growth in capacity under management over the last four quarters, and a 175% increase in sales in UK and EMEA for the first nine months of 2021.
We also exceeded our ambitious revenue forecasts for new name customers, renewals, and expansions — all during a sales quarter that's typically challenging because most people are eager to be kicking back on the beach, not kicking the tires on a new cloud-native file system. But the demand for cloud file storage is so strong, and the frustration with traditional storage and backup so intense, that we enjoyed our best quarter ever. In this post I'll review a few of the key highlights and trends.
Rapid Ransomware Recovery
One of the biggest drivers of new business and interest in Nasuni is our rapid ransomware recovery capability. Whether IT leaders came to us because their organization had suffered a ransomware attack or they were thinking ahead and preparing for the inevitable, Nasuni's unique ability to enable fast, surgical recoveries was a huge selling point. With Nasuni, organizations can recover a million files in under a minute and get their business up and running again within a day or two after a ransomware attack is discovered.
Stephen Held, the CIO at one of our longstanding clients, LEO A DALY, put it this way: "Nasuni was a true lifesaver when we got hit by a ransomware attack. Once we contained the attack, we were able to restore files quickly. Our operations hardly missed a beat."
Making Noise in the Marketplace
The rapid ransomware recovery capabilities of Nasuni, along with our growing share of the cloud file storage market and continuing innovation (check out our new Global File Acceleration technology) have also led to some great coverage in the media and analyst space. Among other things, we were excited to see that Hybrid Cloud Storage is climbing up the innovation curve in a recent Gartner Hype Cycle report and that Nasuni was listed as a feature vendor.
What this means is that Gartner recognizes hybrid cloud storage as a fast-moving, rapidly evolving segment, which is exactly what we're seeing with our business. We're continually adding more customers and bigger brand names like British Petroleum, Western Digital, and an exciting list of global organizations that I'm not allowed to talk about yet. Our customers are very happy with the Nasuni platform, too: we're scoring 4.7 out of 5 on the Gartner Peer Review site.
CloudBound21
We channeled all the excitement around cloud transformations in general into our second annual conference dedicated to cloud file storage, CloudBound21. The free virtual conference was another success as we hosted a wide range of great speakers, including industry analysts, cloud storage executives, and CIOs and IT leaders. It was great to watch our customers talking about their cloud file storage experience with Nasuni, and you can watch any of the sessions on-demand.
Return to the Office
The other big news: We're finally back in the office. This is a 2021 version of "back" since we converted most of our Boston HQ to hotel-style office spaces and meeting rooms. Our employees will continue working from home but will also have the option to get out of the house – or the backyard office shed, in my case – to meet with team members or simply switch up their surroundings to enhance productivity.
Personally, I'm excited to see more Nasuni faces in the real world, off the screen, since these interactions, however brief, are a great reminder of how it really does take the entire organization working together to build a great company. Our success this past quarter was a true team effort, with everyone from executives to engineering to customer support contributing to the company's wins.
Here's to Q4 being even bigger and better.